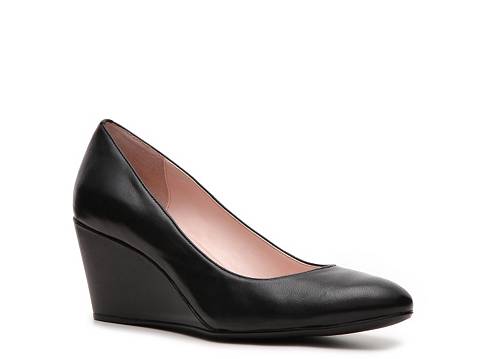 Taryn by Taryn Rose Kathleen Wedge Pump
$69.94
Compare at $179.00

Item # 242370
UPC # 886361604008
Update your classic pump with the Kathleen from Taryn by Taryn Rose. This wedge pump is comfortable and will quickly become one of your favorites.



Reviews
April 02, 2015
LOVE THESE SHOES but they make your feet stink.
"That's basically it. These are the be-all end-all work and everyday shoe for me. I wear them errrrrwhere, they are so easy to throw on and look like you tried at least a little. I actually accidentally left them in a friend's car once and she loved them so much she wouldn't give them back and I had to buy a 2nd pair. Legit.HOWEVER fair warning: they make your feet smell. I am honestly not a stinky person, and I have never noticed this with any other pair of shoes I own. It's not a BO smell, it's kind of a chemical-y plastic smell, but it is definitely present. That's the reason I knocked off a star...these are not the shoes you kick off on the sofa at your boyfriend's place. But for work/errands, they are fab, and great for travel since they are pretty lightweight!If it's helpful for fit purposes, I have them in black, I'm a true size 7 and my feet are on the narrow side of average."
March 27, 2015
comfortable + high quality
"I've never been very comfortable wearing heels, and since developing plantar fasciitis I'm even more picky when it comes to my shoes. These wedges are super comfortable and I was able to wear them for three days straight out of the box with no discomfort. The leather is supple and the foam footbed provides plenty of cushioning. I'd definitely consider buying these in another color or print."
March 21, 2015
Comfy
"These shoes are super comfy...leather is soft, heal is perfect height. I've worn them numerous times for a full day of work/shopping and my feet are still happy at the end of the day."
March 18, 2015
Comfortable, classy and affordable
"I have been looking for the perfect black wedge and this is it. I don't do "high" heels and this works perfectly for me. They are structured really well. It is a quality shoe. I am super impressed with the comfort. I bought this to wear to a wedding that will definitely have uneven terrain, and I think these will be perfect. I might buy this in other colors for different occasions. This would be perfect for the office or anyone who wants a comfortable wedge heel."
Click anywhere to close this.